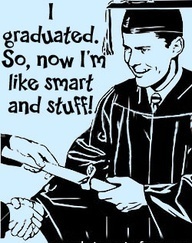 A woman came in the other day who was to give a speech at her son's high school graduation ceremony in front of a very large crowd. As a member of the school board, she was struggling with the fear that on this particular day, she would not be able to effectively deliver the speech because she would be too emotionally overwhelmed as a mother of one of the graduates. She chose to come to me as a public speaking coach because she had heard from a friend that I could help.

Her speech was due in one week's time. Rather than focus on her fears of "losing it emotionally", first we set to work on the text of her speech, re-working and re-writing it so that it would flow well and would include some powerful quotes to reinforce the metaphor she had chosen to speak about. We came up with a plan that outlined the highlights in her speech and where her inflection should go up and where it should slow down and pause for the best possible effect. While it might seem odd to plan out such things, in the beginning stages of learning a new speech, it is very important to plan out the flow of the message you are to give.

I filmed her delivering the speech. Once she could see her body language, it was easy to show her how to make more effective and powerful use of her gestures and eye contact. Communication is over 50% physical and how you hold your body and gesture can really make or break your presentation. When we felt that we had fully explored where she should gesture and how, we rehearsed it several times. I filmed her once more and she was astounded at the difference these adjustments made in the overall presentation of her speech.

Regarding her concerns about the emotionality of the speech, I reminded her that if she allowed herself to indulge in her own emotional experience, she would be depriving everyone else there of experiencing their own feelings. When someone else cries in that type of arena, it prevents you from allowing yourself to also cry as they are "doing all of the feeling for you". This simple thought helped her keep her own feelings in check and focus completely on delivering the message in her speech.

We only worked together twice over the course of the week but I was very confident that she would do well. Here is the email I received from her just today: "The speech went great and it was well received! The valedictorian came up to me at the Dry Grad (I volunteered afterwards at their casino) and said she thought my speech was the best because it was interesting and kept people's attention. There were similar comments from a few others as well. Thank you very much for helping me."

It was a very special moment in this woman's life and it meant a great deal to her to do it well. I'm delighted that she dedicated the necessary time and energy to the project and could truly feel great about her achievement. These are the moments that make my job as a public speaking coach so gratifying!