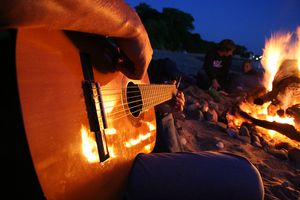 Our monthly student cafe performances have been a huge success in downtown Kelowna at O-Lake Cafe. The owners have very graciously agreed to keep the cafe open later than usual so we can launch something new that will begin at 8:00 pm when the student cafe is finished.

Campfire Cafe is a new group teaching experience where novice and intermediate guitar players can learn new sing along songs. Jim and Kim Rhindress will put forward four songs from which the group will choose the three that they want to learn that evening. Lyric and chord sheets will be provided for participants to keep. Jim will go over the feel, strumming style and any other tricks/tips that will help guitarists get more comfortable playing the song. Kim will go over harmony parts and any vocal issues to address.

The 90-minute evening will cost only $5.00 for participants plus a 1-drink minimum purchase. All participants will get lyric sheets with guitar chords to take home.

We are very excited to share our love of singing with people who are looking to learn something new in a fun and friendly no-pressure group environment.