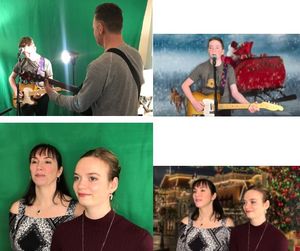 With all live concerts cancelled in British Columbia this most unusual holiday season, we had to get creative at Kelowna Voice Lab and find a way for our vocal students and guitar students to have an opportunity to perform the holiday songs they have been working so hard on. The addition of a ring light and a green screen to the studio has made performance filming possible!
Students performed their holiday songs without the pressure of an audience and have it filmed in the comfort of the studio.
Using a green screen allows Kim to edit the video and insert a fun background as well as titles and credits to the video.
Completed videos are uploaded to YouTube with privacy settings that allow viewing and sharing to people who have received the correct link. This protects the student's privacy but allows family and friends to see their studio performance.
Ten students aged 6 to 60 performed their songs on video and we couldn't have been happier with the result! We will be doing more virtual performances in the Spring and can see this tool becoming a permanent part of what we do at Kelowna Voice Lab to help students of every ability hone their performance skills.