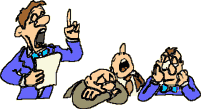 Since a large part of my work is working with the business community, I'm happy to announce the creation of a new LinkedIn group called Kelowna Voice Lab. Here, we can share sound tips on how to make the most of your presentations - particularly as it pertains to how you use your voice to captivate a crowd. Check out the latest posting to the group - a fantastic list of 10 vocal tips to make your presentations more effective:
www.linkedin.com/groups/Kelowna-Voice-Lab-4558420
The group is an open group so please feel free to join and add you own ideas and findings. Happy long weekend and see you online!