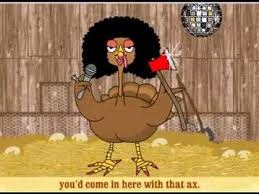 This past weekend, I had the luxury of enjoying three separate and unique Thanksgiving dinners. The first meal I made completely, the second meal I was a guest and made none of the food and the third meal I contributed a few side dishes while my partner Jim took on the turkey, potatoes and gravy (the foundation of the meal). What really struck me (other than the crushing realization that I had just consumed enough calories in those three days for an entire week) was how different each meal was and how each chef prized the tradition that went into the way they prepared the bird. Myself included, it just wouldn't feel like Thanksgiving without that same sage stuffing my grandmother, mother and now I make. There is a comfort and a familiarity to it that makes trying new versions difficult to do.

The same reluctance to step outside of comfort zones can also be true for singing. On Sunday night, Jim and I were delighted to join the family of some very fine professional musicians along with some other long time mutual friends who are also working musicians. After dinner, we all got to participate in a rippin' jam session at their house with three guitars, bass, keyboard and drum tracks all connected to a professional PA system. The sound and vibe of the night was fantastic and we all took turns fronting tunes and singing back up.

The style of music that night was exclusively classic rock which is totally NOT my strength. While I'm familiar with most of those songs, vocally, they are not my sweet spot as I'm a Broadway/jazz/ballad singer first and classical singer second. It was so great to watch Jim and our friends all belting out those songs with the comfort and confidence that comes from doing it for 20+ years. I actually felt a little shy about fronting a song in the company of such competent professionals but It was good for me to stretch and just put it out there – outside my comfort zone.

My favourite meal was the one that was an amalgamation of old and new; a joining of tradition along with the adventure of the unexplored. I think I might just start putting together a small set list of classic rock songs – what the heck.