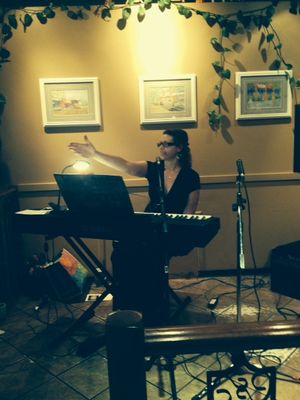 On Thursday, January 29th, students of Kelowna Voice Lab performed Musical Theatre songs for friends and family at O-Lake Cafe and Bistro downtown on Lawrence. A wide variety of musical theatre songs ranging from Rogers and Hammerstein to Sondheim were performed with great enthusiasm. Students ranged in age from 8 to adult and it was a great chance for them to perform in a relaxed low stress environment for their friends and family. 

Many thanks to the families of the students to take the time to come out and support them. Thanks as well to the owners of O-Lake Cafe for opening their doors on a night when they aren't usually open to accommodate our student group.

Click on this link to view a 23 second high speed video of the entire evening courtesy of William at O-Lake. 

Next month's performance will take place on Feb. 27th and will feature a wide variety of songs about what else??? LOVE!