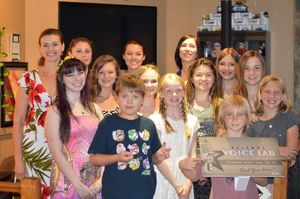 June 22nd was the final installation of our monthly student performance at O-Lake Cafe in downtown Kelowna. 14 students sang two songs each in contrasting styles. We enjoyed two duets, a guitar accompaniment and a student guitar/voice performance. Vocal song styles ranged from 1920's jazz to classical to musical theatre to contemporary folk music.

Everyone did a great job and it was gratifying to see how much everyone has improved over the year. As a singing teacher celebrating my third year working with students in Kelowna, I firmly believe that regular live performance is a fundamental key to becoming a well rounded musician. Many singers have stepped outside their comfort zones performing songs they otherwise would never have tackled. The entire process is designed to help them overcome their fear and anxiety around live performance and many performers are much more comfortable doing so now than they were at the beginning of the year. Participation is always 100% voluntary and the number of students performing here represents about half the number of regular Kelowna Voice Lab students.

We will be taking a break over the summer and will resume our live performances again in the Fall once the sessions are firmly underway. For now, we can take a much needed summer break and know that we have done a great job!