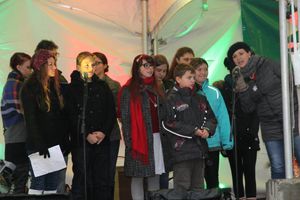 15 singing students of all ages braved the cold rain to perform 45 minutes of Christmas songs at Stuart Park as part of the annual Light Up Kelowna event. It was a great honour for Kelowna Voice Lab to be asked to perform at this great annual city-wide event and everyone did an amazing job singing the songs we have been practicing for our concert!

They sang one group choir song in beautiful 3-part harmony, a trio sang the song they performed at the show SNOW - A Frosty Fairy Tale and Kim even got up to sing a duet with her student Jennifer.

Several brave friends and family were there to cheer us on. Well done everyone! It's so great to hear how much everyone has improved in their confidence and vocal technique! It was also a fantastic practice for our Christmas concert which will be on Tuesday, December 8th at O-Lake Cafe and Bistro.