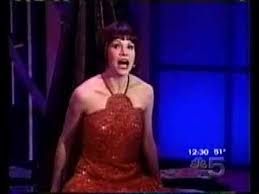 There are certain moments in every singer's life that are defining moments. Whether it is a small recital performance or a big deal concert debut. Inevitably, the question arises, "do I have what it takes to DO this"? It is moments like these when great vocal coaching can make all the difference. 
Here's Broadway star Sutton Foster speaking about her now iconic live performance on the Rosie O'Donnell show in 2002 promoting the new Broadway musical "Thoroughly Modern Millie". 
Foster is very candid about her experience: "You know what's crazy? We did that during previews, and honestly my voice was so fried that I couldn't even get through the sound check of the song. I didn't have the technique or stamina yet for eight-shows-a-week—I was so green and so new. I remember my voice teacher Joan Lader warmed me up on the phone before because I couldn't hit any of the big notes during sound check. I thought, 'This is going to be a disaster, I'm going to be flat on national television!' And everyone was there: Steven Unger, my first agent in New York, Rob Ashford, Michael Mayer. 
But Joan warmed me up over the phone—and she's the best there is —and she was able to get me there. I look back on it and there was so much fear. That was a big old fingers-crossed, please-dear-God, clenched-ass-to-get-me-through-it moment. It's amazing people talk about it all the time and I'm like, 'You have no idea!'" 
What would have happened if she had not called her voice teacher out of desperation? What if her vocal coach was unavailable or on vacation? Sutton's entire musical theatre performance career literally hung in the balance at that moment - her new Broadway show was only in previews and a bad showing on national television would negatively affect ticket purchases. What a tremendous amount of pressure to place on an inexperienced musical theatre performer! 
Vocal coaching and sound vocal technique are an absolute necessity whether you are performing here in Kelowna, BC or on the big stages around the world. Invest in good training – you just never know when it might save your bacon on national television!