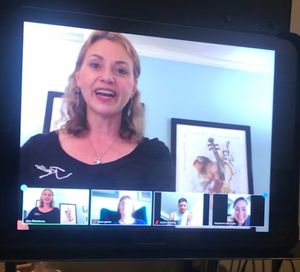 These are strange times to be a professional vocal coach!
With the new COVID-19 social distancing regulations, it has become clear to me that in-person singing lessons in the studio are just not safe. Kelowna Voice Lab operates in a 12x12 enclosed space and studies have shown that there is a lot of air being shared in small spaces. As we go through our vocal warm-ups and various singing exercises, there just isn't enough ventilation to ensure that no germs are being spread - 6 ft. distance or not. In the interest of keeping all of my voice students safe and myself healthy, I am now only offering voice lessons virtually via Zoom, Messenger Video or FaceTime. 
So far, it has been successful and there are currently ten vocal coaching students who are taking advantage of the virtual lesson format. What I have found to be a successful format is that I send (in advance or for new material, during our lesson) a variety of accompaniments or links to the student by email. These will include warm ups, new songs or vocalise exercises and a variety of other backing tracks for them to sing to as they continue to practice throughout the week. 
When it is time for our virtual vocal lesson, we connect via Zoom (I have an account and will provide the voice student with a password in advance of our voice  coaching session) or one of their other preferred video platforms. Based on what I'm hearing as we warm up and progress, I will ask the student to stop and start their singing exercise or song so we can fine tune what they are doing. Of course, live accompaniment is always preferred but in light of the new distancing requirements, the voice students who have participated in the virtual lessons have gotten real value from them. 
The voice can get flabby just like any other muscle in your body if you don't continue to work on it. I'm delighted to help those students who want to continue to exercise and grow their voices. We are all in this together and are doing the best we can! Stay healthy and keep SINGING!!