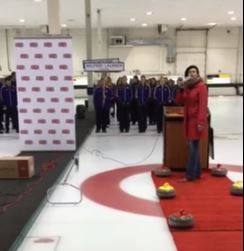 I was honoured to sing the anthem to open the Canadian National Inter-University Curling Championships in Kelowna. March 20, 2016. Singing a capella and alone is perhaps one of the greatest challenges a singer can face. There is no band to hide behind, no group harmonies to blend in with, no beat to groove to and in a song like the national anthem, no character to immerse yourself into. There is only you - raw and naked. The arena has the biggest sound delay I have ever experienced "over 12 seconds - twice as bad as Prospera Place" the arena manager grinned during sound check. Yikes!

Here are a few things I've learned that might help you if you have to sing the anthem yourself sometime:

1) Choose a key that fits YOUR voice. Fortunately, the Canadian anthem has a relatively narrow range but make sure the top note which is the climax of the song sits in a comfortable place in your voice. Starting too high is a fatal error!

2) Focus 100% of your attention on the inner ear melody of the song - shutting out the feedback delay.

3) Think "up and over" for each note to keep your pitch elevated and prevent sliding into pitch.

4) Be aware of your tempo. Go for a relaxed and easy pace; avoid rushing but beware of slowing too much or trying to embellish end of phrase notes for too long. People want to sing along. Make sure your embellishments don't mess with the tempo.

5) Add meaning to your words. Find the most important words in each phrase and really visualize them.

6) Make eye contact with the a few people in audience at varying distances. Looking at a few people will make the entire audience feel connected to you. 

7) Smile. This is a happy event for everyone here and just smiling will put everyone at ease and allow them to enjoy the moment.

During sound check that morning, I was careful to fully immerse myself in the "inner imagination" voice that I encourage my students to use when we sing rounds. You have to allow your ears to hear and accept whatever pulls are being exerted on them without succumbing to their influence. You have to put 100% of your attention on where you know the song needs to go and hearing the pitch in advance of singing it. You have to be 100% focused. This, while still adding meaning to the words you are singing and connecting visually with your audience. Oh, and did I mention I had to do half in English and half in French? It's harder than it looks!

Overall, I think it went over well and I would be happy to do it again sometime. Click HERE to watch the video.