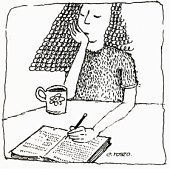 Wow! It's hard for me to believe it's been a month already since I last wrote on my voice blog. My excuses? A lovely vacation to the most magical place in Canada - Haida Gwaii combined with a full vocal coaching schedule when I got back plus having family visiting plus leaping full swing into directing a musical theatre show - Sentimental Journey, a 1940s radio show that opens Septemer 12th (shameless plug, I know) has taken up an unusual amount of my time. However, September will be here before we know it and it's time to get back into the routine of writing weekly. 

I truly enjoy writing this blog as it allows me to fully notice and appreciate what happens in my voice teaching business. Many times, something will come up with a vocal student or I will attend a live show and it will inspire me to consolidate my thoughts about it and write it down. As a teacher, I most often learn from my students and being fully aware of what they have to teach me really helps me appreciate the unique nature of each person's voice and the journey they are on.

Writing is a discipline. It's something you have to set aside time to do regularly because if you don't, there will always be something else waiting to take your time away. My regular time to write my blog is Tuesday. I find this is a perfect day to ruminate on the week, process anything interesting that might have happened over the weekend and decide what was the most impactful and worthy of writing about. Sometimes it's a singer who had a particularly amazing breakthrough, sometimes it's a live music performer or speaker that made a powerful impression on me, or perhaps it's something I've read or seen elsewhere. Whatever it is, sitting down for 30 minutes and formulating my thoughts about it is a great way to exercise my craft and distill the ideas and experiences that make me a better teacher.

And so, I encourage you to write. Write daily if you can but write. It creates a positive momentum of creativity that will make you better at whatever you do. It's good to be back. See you next Tuesday!