I had a cool experience last nigh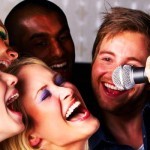 t when my voice student couple brought the wife's sister along to the lesson. She had never done a singing lesson before and was very nervous. However, while there, it became apparent that being with people she loves and trusts was a great ice breaker which allowed her to relax and really enjoy herself. During the lesson, she was able to participate in the warm ups and do some exercises. She just listened while my couple worked on their songs with me and observed how much they had grown over the last few months. Toward the end of the lesson we did some Christmas Carols which she could sing along with and by the end of the lesson, she was signing in full voice with freedom.

Coming along with her family member was a great introduction to me, the environment of the studio and helped her decide that she wanted to come back on a regular basis as part of the group. I suggested she do one individual lesson before we meet next week so I could get her up to speed on some of the fundamentals she will need to know which I don't want to take up valuable group lesson time to do. She agreed and is excited to begin the journey of finding her voice.

There is strength and safety in numbers. Singing in a group created a relaxed and fun atmosphere and takes the self-imposed pressure off of a new singer. Speaking as a teacher, the option of assigning duets as well as solos provides a wonderful variety and sense of fun to the lesson. Learning duets will also give the students a great repertoire so they can perform together once they are ready. For my new trio, my mind is already buzzing with song ideas to help them learn how to harmonize and perhaps eventually perform together. In any case, I do know that we will have a wonderful time together and look forward to what next week will bring.